The Good:
Vladdy finally put good wood on a first pitch that he swung at, sending it out to dead center-field. Of course, then he swung at the first pitch in his next at bat and popped out to end the inning, even though there were two runners on base (who got there via the walk). Flied out on the first pitch in the AB after that. Saw 10 pitches on the night (in 5 PA). The fifth one – in the 8th inning – he grounded through the right side for a game tying RBI single though. Gotta take the good with the bad, which is fine if there's plenty of the former.
In his first at bat, Adam Jones bunted his way on base, stole second, and scored on a single. Then later he crushed a ball for a game-tying two-run home run. Later still a deep flyball scored the team's go-ahead run. He's versatile, is what I'm saying. As long as you don't want him to take a pitch. Also ran down a couple balls in center.
Mark Reynolds was 2-3 with a couple of line-drive hits (including a double), and 3 RBI on the night.
The O's actually drew some walks in this one – 7* total (two by Markakis, one each by Lee, Reynolds, Wieters, and Izturis) – but that's still an area that needs improvement. *Plus an intentional one to Luke Scott.
Jim Johnson looked good out of the pen, hitting 97 and striking out three batters in his 1.2 innings of work.
The Bad:
Chris Tillman had a rough first inning, throwing just 88 mph with his fastball and leaving a lot of pitches up in the zone. That more or less continued all night, but he started to utilize his off-speed stuff more, which helped. And the cutter. Check it out:
Those 16 or so dots that are a distinct cluster apart from his fastball and change (which are mixed in together) are – I'd say – cutters. They're moving in on lefties and are a good 4-5 mph slower than his four-seamer. Could even call them sliders, though they don't drop as much as would be usual. I like that he's trying to mix it up, because his style – 88-90 straight fastball up in the zone with an occasional off-speed pitch – just won't work with the stuff he has now (as opposed to had 2-3 years ago) unless his control takes a great leap forward. We'll see if it continues and, if so, if it helps. Because it didn't tonight; 4.2 IP, 6 H, 3 R (2 ER), 2 BB, 4 K, 1 HR.
Edit: Actually, I think Tillman's thrown this pitch before. It just wasn't counted as a cutter for some reason, but as a change-up (or sometimes a fastball).
Take a look: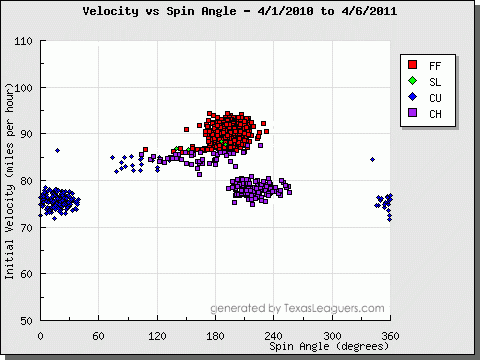 That weird line of purple going across (with a little red there too), are pitches the move in on left-handed batters and have more drop than his usual fastball. So I guess I've just mostly missed them until now, since I assumed the cutter would have velocity more similar to the fastball. Interesting stuff. Heard somewhere that sometimes pitchers who are trying to learn the cutter lose speed on their normal fastball. Might that be the case with Tillman? Is he hurt? It's troubling.
In the bottom of the fifth, Brian Roberts doubled into the right-field corner with Cesar Izturis on first. Izzy rounded third and was given the stop sign from the third-base coach – much to most people's surprise. The O's failed to score (there was one out at the time). Using the 2010 run expectancy tables, the break-even point there was about 79% (maybe a little higher considering the O's had the middle of the order coming up). That means Izzy needed to be safe at least that often, more or less, for sending him to be a good move. And it doesn't sound like fans like those odds (the answers I got back were conflicting – closer to 60-40 than 80-20), given that he wasn't running full speed on the hit for some reason.
The Final:
The offense showed up! Amazing how you can still win games if the pitching struggles, if you actually score some runs yourself. The 9-5 win puts the O's – now 5-1 – back into sole possession of first pace in the AL East. And it gives them their second series win in as many tries.