I know there hasn't been much variety here recently, but I've found this Spring Training surprisingly difficult to get excited about for some reason. The team is more or less set, and at least should be (no matter how well Zach Britton pitches in March, he should spend at least April-June in Triple-A barring a wave of injuries). If Brian Roberts can't play, Ryan Adams should get first crack at the spot by virtue of having some actual upside, but no option will really make much of a difference from any other (and the losses for even a 1-2 month absence are relatively minimal – likely less than a win). Nolan Reimold or Luke Scott taking over for Derrek Lee at first would be fine, if need be. No one really thought Duke would be healthy all year, so having some of the missed time start at the beginning og the season isn't really consequential.
Anyway, this will probably be the last projections post before the 2011 season. Bringing together the position players and the pitchers;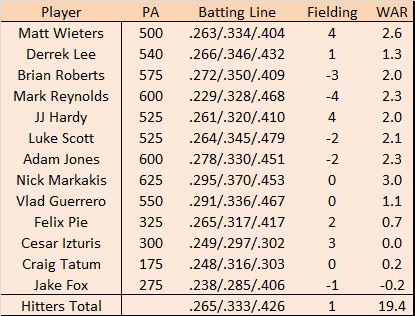 Rotation:
Jeremy Guthrie: 180 IP, 4.15 ERA, 2.8 Wins Above Replacement
Brian Matusz: 175 IP, 4.00 ERA, 3.2 WAR
Justin Duchscherer: 75 IP, 4.50 ERA, 0.9 WAR
Brad Bergesen: 160 IP, 4.75 ERA, 1.4 WAR
Jake Arrieta: 130 IP, 5.00 ERA, 0.8 WAR
Chris Tillman: 120 IP, 5.00 ERA, 0.7 WAR
Zach Britton: 50 IP, 5.25 ERA, 0.2 WAR
Misc: 45 IP, 5.50 ERA, 0 WAR
Total: 4.60 ERA, 9.9 WAR
Bullpen:
Kevin Gregg: 55 IP, 4.00 ERA, 0.4 WAR
Koji Uehara: 50 IP, 3.50 ERA, 0.8 WAR
Mike Gonzalez: 45 IP, 4.00 ERA, 0.3 WAR
Jim Johnson: 50 IP, 4.00 ERA, 0.3 WAR
Jason Berken: 55 IP, 4.00 ERA, 0.4 WAR
Mark Hendrickson: 50 IP, 4.50 ERA, 0.1 WAR
Misc: 200 IP, 5.00 ERA, -0.2 WAR
Total: 4.40 ERA, 2.0 WAR
We get a total of 31.3 WAR. Normally 48.5 or so would be the baseline for how many wins a replacement level team would have, but knocking off a couple wins for the division seems fair. That would leave the Orioles at 77.8 wins. I'd still be inclined to take the under on that, and have been saying 76 wins is my baseline. Maybe 76-77 would be better (really, 66.5 to 86.5), but in any case the team should have a non-trivial shot of finishing with a winning record for the first time since 1997. Exciting! Still not likely to be above 4th place though (if even that high).
---
Stats:
WAR