I've got a couple of opportunities for you guys to win some baseball stuff.
First up is the Orioles merchandise. As a way of showing thanks to the people who've picked up a copy of the 2010 Camden Crazies Trade Deadline Primer, I'm going to select two such individuals to receive a special O's t-shirt. Not just any plain shirt, mind you, but one of these Baltimore: Rebuilding Since Weaver shirts created by Alternative Hero. Check it out: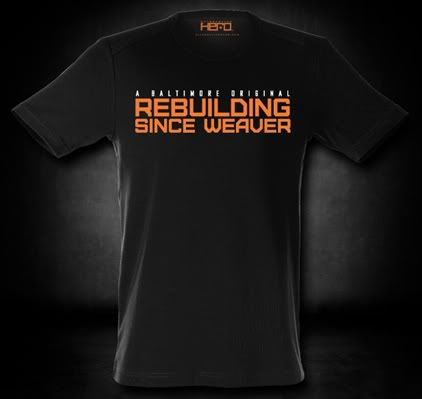 Now if you don't have the Primer yet you still have until the trade deadline (ie, the end of July) to get it and be entered to win. Thanks to those who have already done so – I hope you're enjoying it.
———————————————————————
Then there's the the more societal beneficial one:
Pitch In For Baseball joins the State Farm "Go To Bat" campaign:
"Pitch In For Baseball is delighted to have been selected to
participate in State Farm's 'Go To Bat' campaign. Now we need your help!

'Go To Bat' was launched nationally during the State Farm Home Run Derby. 'Go To Bat' gives entrants a chance to win tickets to the upcoming World Series and selected charity partners the chance to receive significant financial support.

Here's how to play and how to help Pitch In For Baseball:

Go to www.statefarm.com/gotobat to register for your chance to win World Series tickets.
As you register, you will get a chance to designate a charity that could win up to $25,000/week.
To designate Pitch In For Baseball as your charity, select
PUBLIC GOOD as the charity category and then choose Pitch In For Baseball from the drop down list.
Revisit www.statefarm.com/gotobat each day and play the 'Go To Bat' online game to increase your chances for tickets and Pitch In For Baseball's chance at financial support."
You get to help people AND potentially win tickets to the World Series? Sign me up*!
* Don't really sign me up. I'll sign myself up, and you all do likewise.