Patience is difficult. So many losing seasons can wear on people, and it's understandable that it would be hard to stay upbeat about the Orioles when other teams are making big trades and signing the Matt Holidays and John Lackeys of the world, while the O's are still waiting things out with Mark Hendrickson. Hearing that it's all part of the plan and that you need to wait a year (or two) is frustrating, no matter how true it might be. Therefore I thought it might be helpful (and fun!) to take a look at where the team might stand in 2012 if things go (relatively) according to plan.
I'm going with 600 plate appearances as the standard for starters at most positions. It's likely that some guys would get more than that while other less, but 600 PA is what usually constitutes a "full season". I don't think any of the projections are too crazy, but it would probably be fair to say that there is a little more down-side risk than upside. Still, sometimes you need things to go well if you're going to contend for a championship. I'm also using 2.25 wins as the replacement level, consistent with FanGraphs and not adjusting for the AL/NL disparity.
C: Matt Wieters
Wieters will be 26 (seasonal age) and in his fourth season in the big leagues. While it would be unfair to expect him to be an MVP candidate, a batting line of .295/.375/.500 and 25 home runs in 575 plate appearances (mostly at catcher, but also filling in at DH) would make Wieters a 5.0 Wins Above Replacement player. There's a pretty good chance that the only back-stop that would beat that mark is Joe Mauer. Can't really complain about that; an All-Star and championship caliber player, but not one of the top few guys in the league.
1B: Brandon Snyder
He'll be 25 years old and likely going into his second full season (assuming he spends most of 2010 and the minors and then gets the job outright in 2011). After adjusting to the big leagues, Snyder could use his contact skills and gap power to put up a .285/.350/.450 line with 18 home runs in 600 PA. Reports are that his defense is improving at first-base, but I'll assume he's only average there. A 1.8 WAR player is solid, but a little below average. I'll note that this is largely in line with what an Adam LaRoche type player could do, so if the O's would want to upgrade they'd probably need to go for a star player. (Adrian Gonzalez is set to be a free agent after the 2011 season. I'm just saying.)
2B: Brian Roberts
Roberts will be 34 and going into the third year of his four year contract extension. Second-basemen don't tend to age all that well, but Roberts should still be a contributor to the team. If he hits .275/.345/.415 with his usual solid baserunning (say, +2 runs) and his defense doesn't collapse (say, -5 runs) then he'd be a 2 WAR player. He'd still be worth his salary, but I'd hope the Orioles have someone in the system coming up at the position.
3B: Josh Bell
Like Snyder, He'll be 25 years old and likely going into his second full season (assuming he spends most of 2010 and the minors and then gets the job outright in 2011). After adjusting to the big leagues, hopefully Bell will be able to utilize his raw power to post a line like .270/.335/.445 with the bat, including 21 home runs in 600 PA. I'm still not convinced he's improved a ton with the glove, but -3 runs doesn't seem unreasonable. That would make Bell about a league average player, at 2.3 WAR.
SS: ?
This is kind of an issue. I don't think you can really bank on Pedro Florimon winning the job outright, so it's likely the O's will need to go outside the organization for a solution. A .270/.320/.395 hitter who can play +3 defense doesn't sound that impressive, but would make a 2 WAR player. I don't know if that will be available on the free agent market, so a trade might be in order. Maybe it might not be fair to go with 2 WAR given the uncertainty, but I have to think that getting someone decent at the position is a must and will happen one way or another. If you prefer, feel free to knock a win off the final totals.
LF: Felix Pie
Pie should be right in his prime at 27 years old. As the team's starting left-fielder, at +10 glove and even a .275/.335/440 batting line in 550 PA would make him a solid 2.2 WAR player.
CF: Adam Jones
If Jones can put his defense and his offense together in his age 26 season – say, a +3 glove and a .290/.350/.500 bat, with 24 home runs in 600 PA – then he would be one of the top center-fielders in baseball at 4.2 WAR.
RF: Nick Markakis
Markakis will be 28 years old, and in his seventh year with the Orioles. If his glove is about average and he can hit .300/.385/.500 with 23 home runs in 600 PA then he's at 4.1 WAR.
DH: Nolan Reimold
Reimold can fill in in left a little, but with Pie being the far superior fielder it makes sense to just let Nolan swing the bat. A .285/.370/.480 line with 23 home runs in 600 PA actually isn't all that impressive for a DH, so he would only be around a 2.3 WAR player.
Bench: Maybe Caleb Joseph claims the back-up catcher spot, with Scott Moore and Justin Turner as back-up infielders, and Matt Angle as a back-up outfielder. Whoever it ends up being will have around 875 PA and a whole bunch of defensive innings to contribute whatever they can to the team. I'll assume they're only about replacement level.
This set of position players would total about 26 WAR, with a batting line of .276/.345/.441. They would be expected to score a little over 800 runs. That would likely make them a top 5 AL offense, both in total value and just offensively. There are a few stars (Wieters, Markakis, Jones) surrounded by guys who are solidly average. Avoiding holes in the line-up is key, allowing the team to compete without a $20 M player at every position.
SP1: Brian Matusz
The 25 year-old ace of the O's rotation, pitching 190 innings with a 3.75 ERA (well, FIP). Not a Cy Young contender at 4.3 WAR, but a very good starter in the mold of Cole Hamels.
SP2: Chris Tillman
Still only 24 years old, but beginning to challenge Matusz for the top spot with 180 IP and a 4.00 ERA – good for 3.5 WAR.
SP3: Brad Bergesen
An above average innings-eater in the middle of the rotation at 26 years old, with 190 IP and 4.25 ERA leading to 3.1 WAR.
SP4: Jeremy Guthrie
Guthrie will be in his last year under team control and likely on the down-slope of his career at 33 years old. Hopefully he can still give the team 175 innings with a below average 4.75, which would make him a 1.8 WAR player.
SP5: Jake Arrieta
Arrieta would still be working on things in his second full season in the big leagues, but 150 innings of 4.75 ERA ball and 1.5 WAR would be a fine addition to the back end of the rotation.
SP6,7,..?: Assorted cast of characters to pick up the the remaining 50+ innings for the rotation, with guys like David Hernandez, Jason Berken, maybe Zach Britton, etc contributing approximately replacement level work.
Bullpen: With the general fungibility of relievers, it's hard to tell who will comprise the relief corps. I'll assume that Jim Johnson, Kam Mickolio, and company (Brandon Erbe?) will accumulate a relatively league average 3.0 WAR. You see why paying big money for relief pitchers – especially middle relievers – isn't often a good idea?
The pitching staff's 4.36 ERA (FIP) and 17.2 WAR would both be about middle of the pack in the AL. They would be expected to give up a little over 700 runs. If they wanted to bring in a #1 starter to push everyone down a spot and maybe move Arrieta to the pen, that could add another 3-4 WAR to the team. As is, an almost completely home grown rotation of this quality would be very impressive.
Putting it all together, the Orioles would be at 43.2 Wins Above Replacement. That would have about tied them with the Dodgers last year, and placed them 5th in the American League… behind the Yankees (56.9), Rays (51), Red Sox (51), and Angels (46.1).  Using about 48 wins* as the level a team of replacement players would reach, the O's would be looking at something like 91 victories. On the bright side, a break here or there and they win 95+ games and easily make the playoffs. On the other hand, the team could win 91 games and still come in 4th in the AL East. You do the best you can though, and let the chips fall where they may. Certainly a true talent 91 win team would be a very good achievement, regardless of the team's actual record.
* That's using the average replacement level team, going along with the general 2.25 WAR replacement level for players. Since the AL is tougher then the NL currently, it's likely that a replacement level team would only win around 45 games in the AL. That would mean a 43.2 WAR O's team would only be in the 88-89 win range.
Here's a handy chart to summarize the info. Fielding isn't included because I wanted the same number of column for both hitters and pitchers (dumb, I know):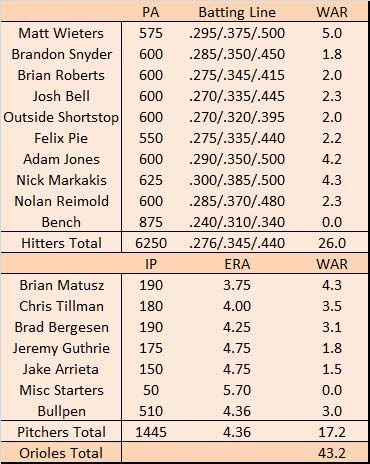 This is largely what the plan looks like, with the knowledge that things probably won't work out quite this well and there will be a need to be more active in free agency and on the trade front. Still, the base is there for a Baltimore team to rise into contention in the near future.