It's finally here: the 2010 Trade Deadline Primer!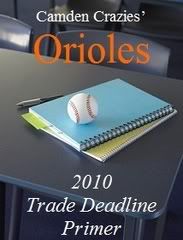 "Whether you're an Orioles' fan, a baseball expert or a fantasy baseball guru, this is your reference guide to the 2010 trading season. Written by Camden Crazies' Daniel Moroz and a host of experts from other teams, this 160+ page e-book provides all the info you'll ever need:

– Foreword by Rob Neyer of espn.com

– Summaries of what every other team is looking to do at the deadline, including how it could help your fantasy team

– 150+ easily referenced trade targets with breakdowns

– 120+ impact prospects

– Essays about what other team in the AL East may be focusing on.

Order now and you'll receive your copy within minutes!"
It'll have things like player report cards, who's likely to get traded, the positions of need for the team, a look back at the first half of the season, and an essay on how things look for 2012 (when the team should be ready to contend) – the base of players already here, how they will need to perform, and what kinds of holes still need to be filled. And while this version is Orioles-centric (of course), you'll get great info on all 30 clubs. I was really excited to asked to contribute, and I tried to keep things light on the stats so it won't just be 50 pages of spreadsheets.
You can check out a free sample here, or get all 160+ pages of baseball goodness for $9.95 here. Hope you all enjoy it.