Nick Markakis almost never even says more than a couple words to an umpire. He got ejected (for the first time in his career) for arguing balls and strikes in tonight's game – and good for him; the calls were terrible.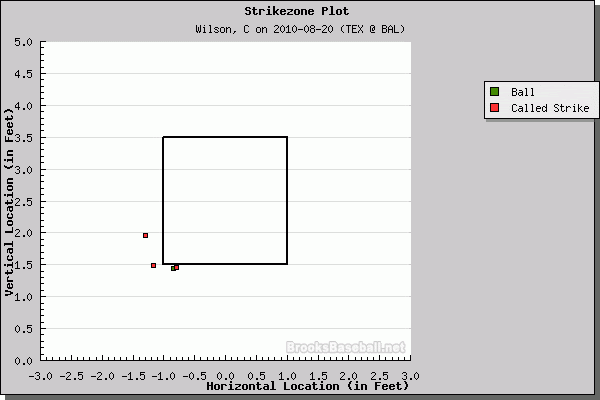 Pitch 1: Ball one low
Pitch 2: Strike one in the same spot as ball one
Pitch 3: Strike two low and outside
Pitch 4: Strike three outside
Awful. Nick said something after strike one, strike two, and then went off (for him) after strike three. And keep in mind that the bottom of the strike-zone line here is a bit lower than Markakis' actual zone – so the calls were even more blatantly wrong.
Really, it looked a lot more like this: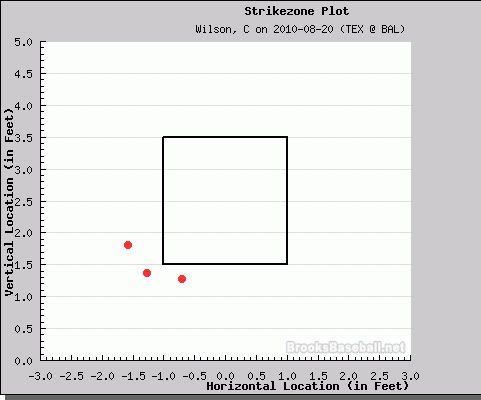 Nick took four balls and struck out.
Edit 1: In the post-game interview, Nick said he didn't insult the ump or use any profanity before he was tossed. Guess Jeff Nelson didn't like hearing that he was having a bad day behind the plate.
Edit 2: Later on, Buck got tossed too. Matt Albers throw a pitch just low and off the corner – a strike most of the night for CJ Wilson – and it was called a ball. Matt Wieters apparently said something though his mask, the ump came out in front of him to dust off the plate and said something back, and Buck exploded at him. Just an absurd game (not just because of the calls, but the ump's attitude), and I'm not usually one to make a big deal about this stuff.