Peter – from the very good Atlanta Braves blog Capital Avenue Club – put together a neat tool that allows you to look at a player's home run landing spots relative to different ballparks, so I thought I'd give it a whirl.
First up, here's new Oriole Garrett Atkins, from 2006 (29 HR), 2007 (25 HR), 2008 (21 HR), and 2009 (9 HR). The orange is Oriole Park at Camden Yards, and the purple is Coors Field.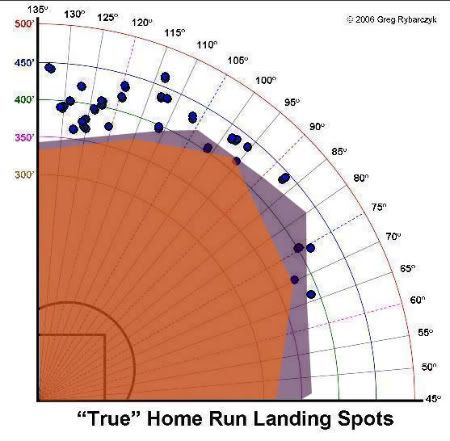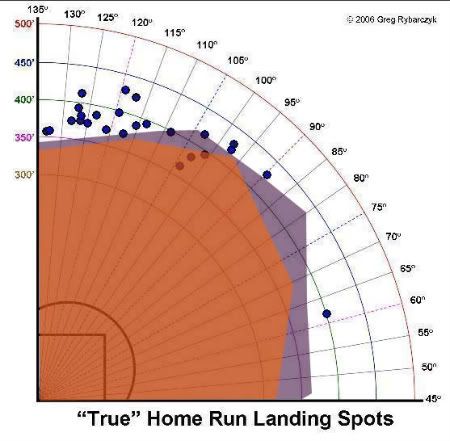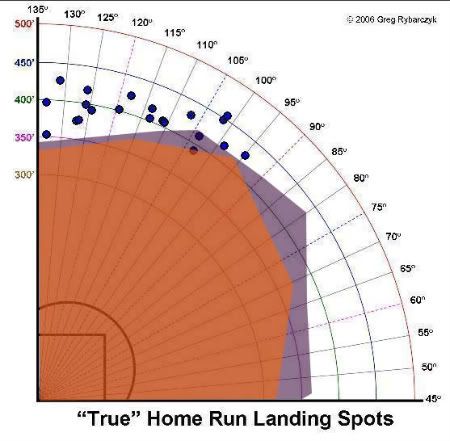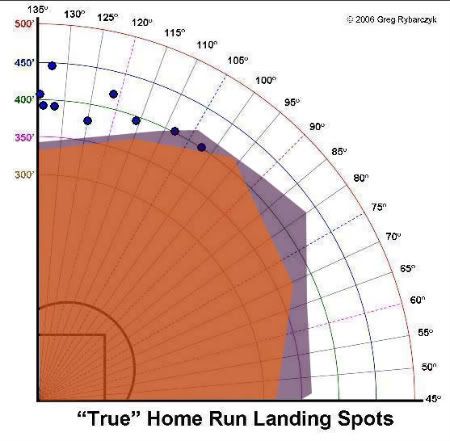 Not only is Atkins hitting fewer and fewer home runs, but his power has moved from a more "to all fields" level (relatively speaking) to an almost "dead pull" level. We'll see what he does in the smaller park next season.
Here's Adam Jones from 2008 (9) and 2009 (19 HR).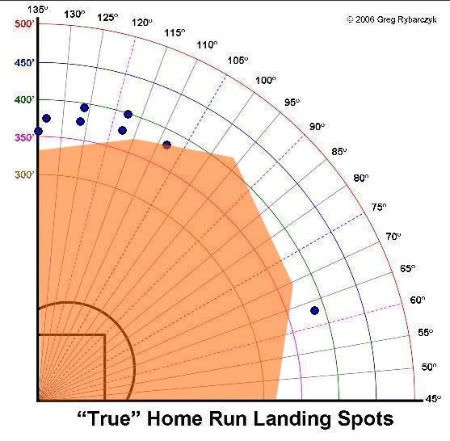 Jones progressed in the opposite manner from Atkins. It looks like he really did muscle up before last season, and if he could get more balls into the air in general than a 30 HR season at his peak might be pretty reasonable.
And finally, here are Adrian Gonzalez's 40 home runs from 2009 at Petco (brown) and Camden Yards (orange). As you can see from the blue dots inside the brown outline, A-Gon was slightly fortunate to hit that many longballs, and moving from the expansive park in San Diego to the cozier one in Baltimore would make up for losing some of that luck. By my count, 26 homers would have been gone in either park. [Obviously that doesn't take into account the ballparks in which the home runs were actually hit, or the effects of the difference in league difficulty between the AL and the NL in general.]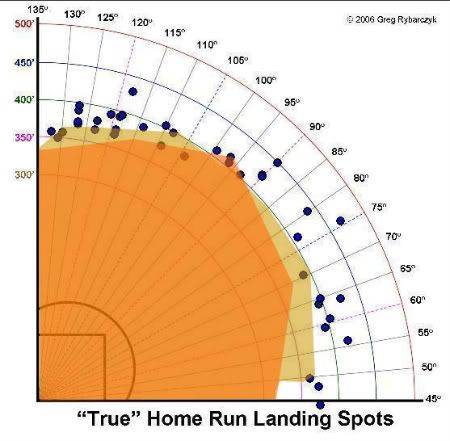 Thanks CAC, Andrew Clem for providing him the ballpark dimensions, and HitTrackerOnline making this nifty tool possible. Are there any other players that would be of interest with this type of exercise?