Whenever I have written about Mike Mussina's place in history – whether it be ranking the top Orioles or taking an early look at his potential Hall of Fame candidacy – I've tended to compare him to Jim Palmer. It made sense, since Palmer is the Gold Standard against which all O's pitchers are judged. In the end, I came around to the conclusion that Mike Mussina (including his years in New York), was a better pitcher than Jim Palmer. The surface stats for both are similar*, but Palmer pitched in front of some great defenses that helped his cause. It's that latter point that I wanted to address.
* Very similar: Palmer: 268-152, 126 ERA+ Mussina: 270-153, 123 ERA+ Obviously their other stats are different due to the vastly different eras in which they pitched, but damn if that isn't spooky close.
I went through Rally's histrocial WAR database, looking at the top 500 pitchers as ranked by Wins Above Replacement. That's everyone from Cy Young (146 WAR) to Bob Forsch (18.6 WAR, though I have no idea who that is). On there for each pitcher is a defensive component which is the "estimated runs saved by this pitcher's defense, using TotalZone range, DPs, OF arms, and catchers, prorated by the number of balls in play allowed by the pitcher." Jim Palmer was easily the pitcher whose defense saved him the most runs, ahead of the immortal Old Hoss Radbourn and the eminently mortal Dave McNally.
Here's the top 10:
Jim Palmer: 144 runs saved
Dave McNally: 129 runs saved
Charley Rabourn: 106 runs saved
Tim Keefe: 104 runs saved
Catfish Hunter: 97 runs saved
Kid Nichols: 96 runs saved
Tony Mullane: 85 runs saved
Whitey Ford: 85 runs saved
Tom Glavine: 80 runs saved
Jack Morris: 76 runs saved*
* And yet he still had a 3.90 career ERA.
The only guy even close was his long-time teammate on those great Orioles teams in the '60s and '70s. For completeness, here's the bottom 10:
Phil Neikro: -110 runs saved
Tom Candiotti: -78 runs saved
Larry Dierker: -76 runs saved
Wilbur Wood: -70 runs saved
Pedro Ramos: -68 runs saved
Turk Farrell: -67 runs saved
Rick Reuschel*: -66 runs saved
Kevin Gross: -62 runs saved
Orel Hershiser: -57 runs saved
Don Wilson: -51 runs saved
Interesting to see knuckleballers at the top of this list, though I guess it makes some sense.
* I saw a couple of people during the HOF discussion counter the Wins Above Replacement argument for Bert Blyleven by saying that if we go by that standard then Reuschel should be in as well (66.3 career WAR). I won't say one way or another, but it is an interesting question and here's a graph of his best to worst WAR seasons against Curt Schilling and Tom Glavine to peruse. The man nicknamed Big Daddy fits in OK.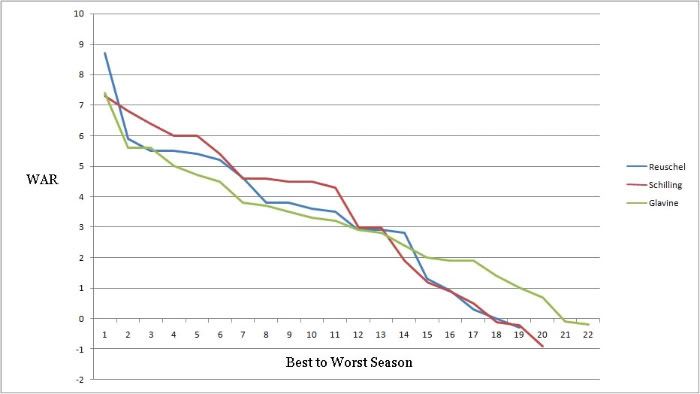 Who knows what would have happened if Reuschel had pitched on some good teams with some better defenses.
Anyway, back to Palmer. The guy was a great pitcher – won 20 games eight times; never gave up a grand slam; was the only pitcher to have won a World Series game in three different decades; 3 Cy Youngs; etc. – but he benefited greatly from playing in front of some of the best defensive squads of all time. Credit to him for using that to his advantage (career K/9 of just 5.0), but more credit to the players actually employing those gloves.
There was Brooks Robinson, of course, at third-base. Between Total Zone and turning the double play he was at +294 runs for his career defensively. Most of that came when Palmer was on the team, including seasons of +33, +32, +23, +22, +19, +18, and +18.
Doug DeCinces took over for Brooks, and wasn't too bad himself with seasons of +18, +13, and +11.
Mark Belanger was so ridiculously good with defensively at short (+241 career) that they were willing to put up with his terrible bat (-248 career batting runs). With seasons of +35, +27, +26, +26, +24, +24, and +21, he may very well have been the best defensive shortstop of all-time.
Before Belanger there was another great fielding shortstop in Luis Aparicio (+149 career), and he had seasons of +15 and +10 behind Palmer.
Paul Blair was known for his glove in center-field, with a +140 TZ for his career and another +34 for his throwing arm. In his prime, he had seasons of +26, +25, +22, +19, and +18 (total).
Bobby Grich played a few seasons at second in the early to mid '70s. While he was a plus for his career in general (+83), some of his best seasons came in Baltimore (+29, +17, +10, +8).
Rick Dempsey was Palmer's battery-mate towards the end of his career. He was a plus defensive catcher for his career (+70), but that almost entirely came from his time in Baltimore (highs of +12, +9, +8, +7, and +7).
Gary Roenicke had a few decent seasons in limited time as an outfielder as part of the famous Lowenstean/Roenicke platoon, with one year at +21 and some other fine ones sprinkled in.
The season in which Palmer's defense saved him the most runs was 1973, at +22. If you add those runs in, Palmer's league leading 2.40 ERA turns into a 7th place 3.00*.
* And do you know who would have won the ERA title – and very possibly as a result, the Cy Young – that year? That would be one Rik Aalbert Blyleven, who came in 7th in the voting despite his amazing 9.2 WAR season. You could make the argument that the Orioles' 1973 defense has kept Bert Blyleven out of the Hall of Fame. I won't – because it's pretty out-there – but you could.
That year Palmer had the following guys behind him:
Starters:
C: Earl Williams (+4)
1B: Boog Powell (-4)
2B: Bobby Grich (+29)
3B: Brooks Robinson (+18)
SS: Mark Belanger (+26)
LF: Don Baylor (+5)
CF: Paul Plair (+16)
RF: Merv Rettenmund (+12)
Some contributions from the bench: C: Andy Etchebarren (+4) OF: Rich Coggins (+5)
That line-up helps explain why Palmer posted the lowest Batting Average On Balls In Play of his career that year (in a full season) at .236. For his career his BABIP was .255, which is the lowest mark ever for a pitcher with at least 3500 IP, the 3rd lowest for a pitcher with 2500 IP, and the 12th lowest of a pitcher with even 1000 IP (crafty left-hander Babe Ruth leads that group at .246 – I guess he expected some regression and focused on his batting instead). Those Orioles teams with Brooks, Blair, and Belanger really helped out their pitchers, and I hope Palmer thanked them profusely in his Hall of Fame acceptance speech.