The Good:
* Nolan Reimold was the DH and homered in his first plate appearance, hitting one out on a line to left-field. Leave the kid there, and let him concentrate on his hitting until his Achilles is fully recovered.
* Brian Roberts finally got going, walking once (and then stealing second) and going 2-4 with a double.
* Garrett Atkins picked up a couple of hits – a hard-hit double and a bloop two-run single. Every time he comes to the plate I expect a weak groundout to short though.
* Luke Scott walked and doubled, and played left-field. I think he's the better option out there as long as Pie is in the shelf.
* Matt Wieters had a 2-4 in the box score, though one of his hits was a line-drive that Carl Crawford made a diving catch on but was ruled as hitting the turf by the ump.
The Bad:
* Brian Matusz showed some very uncharacteristic poor control, walking the bases loaded in the third inning before allowing a couple of runs to score on a single and a sac fly. His final line was: 5 IP, 2 H, 2 R, 5 BB, 7 K, with 0 groundouts to 5 flyouts and 97 pitches thrown. Can't say I'm not disappointed, but it's just one start and he did a good job limiting the damage (two pick-offs didn't hurt either). Nice to see him mixing his pitches pretty well – appearing to use both two-seam and four-seam fastballs, as well as a fair number of curveballs and change-ups. Fastball was only 90-91 instead of 91-92 though, and he didn't get as many swings and misses as you'd expect given the 7 strike-outs.
Additionally, when Matusz was missing he was missing low (for the most part):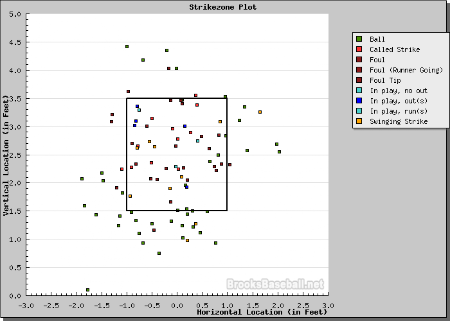 From Brooks Baseball
So some positive things, but overall not likely to be his best start of the season.
* Mike Gonzalez struck out the first two in the 9th, but then walked a batter and gave up a single. Then he walked another batter to load the bases, before getting Zobrist to fly out to end it. He's looked terrible so far this season – even irrespective of results.
* Adam Jones and Miguel Tejada went a combined 0-9, but that'll happen sometimes.
The Final:
The O's finally were able to hold on to their lead through the ninth inning, and finish with a 5-4 win. That puts them in the win column for the first time, and they go home at 1-2.