The Good:
* It might not help his ERA, but Jake Arrieta had perhaps his best start in the majors up to this point. Final line; 5 IP, 6 H, 3 R, o BB, 5 K, 1 HR. It was the first time all year he didn't walk a batter (previous low was 2), and if he has another game like this he'll actually get his K/BB ratio above 1 (it's at 44:46 now). He gave up a lot of flyballs – 8 (to only 3 groundballs) – with one going over the fence, even though he used his two-seamer pretty often. A little too much locating up in the zone, I guess. Still, it's progress.
* Julio Lugo, Ty Wigginton, and Felix Pie each picked up a couple hits.
The Bad:
* Mark Hendrickson didn't have his best relied outing, blowing the lead by giving up a two-run homer and walking a batter before getting pulled (after throwing a scoreless frame).
* Alferdo Simon blew the tie, coming in for Hendrickson and letting in three runs (two on a home run). His home run rate is now 1.8 per nine, and his HR/FB rate is about 20%. That latter figure is the second highest in the majors this year, amongst all pitchers with at least 40 IP. There is no way I buy that that's going to remain at that level. Simon's stuff is too good for that, and 20% HR/FB rates just don't persist. That doesn't make the home runs any less irritating to see though.
Edit: Here's Simon's HR chart from HitTracker (not counting the one Beltre hit tonight, which went into the 1st row in left-field):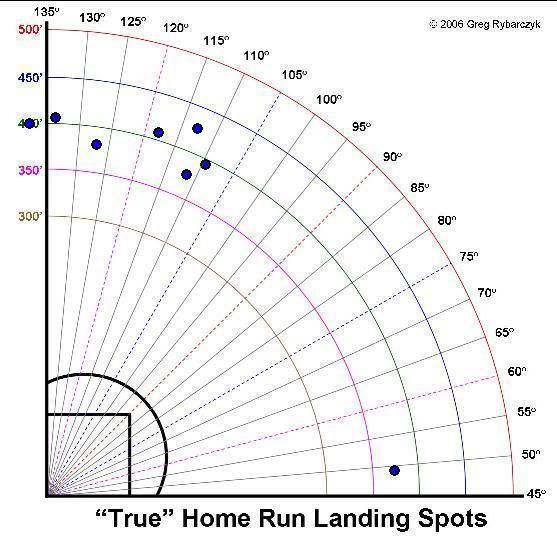 The average standard distance was 392.5 feet, and the average true distance was 389.9 feet (and both will be lower once Beltre's is included). Those are perfectly normal numbers. Two of the 8 (which will be 3 of the 9) are classified as either "just enough" or "lucky". I'm willing to accept that Simon might be more susceptible to the longball than the average pitcher, but not nearly at the level that it has been.
* 12 strike-outs and only 2 walks from the offense.
The Final:
The team certainly didn't get September off on a good note.