Brian Roberts is widely acknowledged as a very good base-stealer, both for his raw speed as well as his smarts. Max Marchi did an interesting study at The Hardball Times recently using WOWY (with or without you) to look at the interactions between base-runner, pitcher, and catcher. Brian came out 55th out of 1,094 players all-time – and 10th on the active list – with Max only looking at situation with just a runner on first. That likely indicates that Roberts is even a little better, given his great success at stealing third-base. Brian's base-stealing prowess peaked in 2007, when he stole 50 bases with a 88% success rate. Since then, that's fallen to 40 steals (80%) in 2008 and 30 steals (81%) in 2009. Is that a problematic trend?
Fancy table time: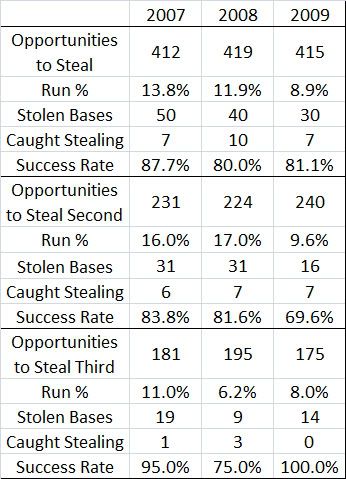 I counted an opportunity to steal as a plate appearance that started with Roberts on base and the base in front of him empty. It's not perfect, but I think it gets the job done. The run % is how often he would attempt to steal a base when he had the opportunity. The table is broken down into all situations, steals of second, and steals of third.
You can see that the major reason for the drop in steals from '07 to '08 was because Brian was attempting to swipe third less often – and when he did go for it, the results weren't quite as exceptional as usual. Last season he ran more from second and was again quite good at it, while having the attempts from first (and the success rate) go way down. Ideally, you'd want to see success rate go up as attempts go down, since the runner should be picking his spots better.
Looking at the run impact of the stolen bases at Baseball Prospectus, it seems that the big drop in value came from '07 to '08. In 2007 they have Roberts being worth 6.3 runs above average on stolen bases. In 2008 that dropped to 2.0, and in 2009 it was 2.2 runs. Because Roberts was still efficient  – especially taking third – he's still a (small) plus stealing bases even if the raw totals aren't that great.
Even with the back injury and further drop in speed as he gets older, I don't expect Brian to run that much less this season than last. He may cut back on trying for third a little, but I don't foresee another decrease in going for second after such a big one – it would be very surprising if Robert's talent there fell so much that even when running less his success rate went down over 10%, while he was perfect going for third. Given that, I don't think his stolen base totals will really go down in 2010 (except in the case of missed time).
Edit:
Paul Bourdett (Base-Heads.com) made an interesting point, that maybe Roberts was running less because of better hitters behind him. One measure is just runs per game, since a stolen base is worth less in a higher run scoring environment.
Orioles runs per game:
2007 – 4.67
2008 – 4.86
2009 – 4.57
And more specifically, how did the batters following Brian in the line-up perform?
OPS for the Orioles' 2-3-4 hitters (not particular players):
2007: .738 – .810 – .778
2008: .791 – .862 – .839
2009: .810 – .775 – .711
As with the run scoring, '07 and '09 look pretty similar overall while '08 had the big jump.
I don't think you can quite use the same year numbers to make judgments, because Roberts can't tell in April if the team will score 700 runs or 800 runs for the year. Perhaps the previous year's offense affected his perceptions.
In 2007, Brian ran about as much pre All-Star break as post. In 2008 though, his stolen base attempts per game dropped by almost 50% after the break (with the pre-break rate being in line with '07). The offense was better in the second half that year – largely because of Aubrey Huff – but I have a hard time accepting that as the reason. And that wouldn't explain the 2009 drop at all, given that the offense was back to 2007 levels.
Perhaps, as Andrew brought up in the comments here, it was due to results. Roberts was only 27 for 36 on stolen bases in the first half of '08, for a 75% success rate that's below his career numbers and a fair bit worse than 2007. Maybe he really was picking his spots better in the second half, because even though he only attempted 14 thefts, he was safe 13 times.
And 2009? Roberts ran in the first half a little more than he had at the end of 2008, but his success rate was back down below 80% with his 18 for 23 mark (78%). So in the second half of '09 Brian ran even less, and was again succesful much more often (12 for 14).
Has Roberts' basestealing ability really fallen so far so quickly that he can only remain successful on the basepaths attempting a little under 30 steal a year? Maybe. If he can maintain an 85% success rate though, then that would still be the smarter thing to do (and would give him ~25 steals for the year).
I suppose I should therefore revise my previous statement. I don't think his stolen base totals will really go down too much in 2010 (except in the case of missed time).
Edit 2:
After comments/links from Matt Klaassen, Al Skorupa, and The Yankee U on Twitter, I looked at the aging patterns study at The Book Blog which appears to have stolen base prowess peaking at age 24 and declining by 4-5% a year (using SB / (.8*1B + .6*BB) as their measure). Roberts' decline (using the same measure) was actually 14% from 2007 to 2008 and 19% from 2008 to 2009. That's quite a bit more, obviously.