In part forty-six of my almost 50 part series "Better Know An Oriole" (otherwise known as 2009 Orioles Retrospective), I take a like at starter Jeremy Guthrie… THE FIGHTIN' BICYCLE RIDER*!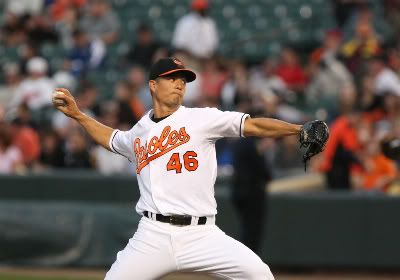 * For those that aren't aware, Guts actually rides his bike to the stadium. It's pretty neat!
Going into the 2009 season, I projected Guthrie to pitch 180 innings with a 4.15 ERA. I noted that he didn't strike out a lot of batters, but that he seemed to have a knack for posting low BABIPs and ERAs that were below his FIPs. He was supposed to be the "ace" of the O's stuff, and eat some innings while the younger guys get their feet wet in the majors.
Jeremy did indeed give the team innings – 200 on the nose, to be exact – but they weren't quite of the quality that was expected. I almost never reference win-loss record, but Guthrie's 17 losses were the most in baseball last year. His ERA shot up to 5.04. His control stayed level with 2008 at 2.7 BB/9, but that's still higher than his 2007 mark of 2.4 BB/9. His strike-out rate dropped for a second year in a row, from 6.3 K/9 in '07 to 5.7 K/9 in '08 to just 5.0 K/9 last year. I think that was overlooked a little given how frequently balls were leaving the yard against Guthrie (a terrible 1.58 HR/9), but more balls in play – along with flyball rates going from ~38% of balls in play to over 46% – were contributing factors (his HR/FB rate was actually a perfectly reasonable 10.9%). All that, and yet Guthrie's ERA was once again better than his FIP (5.31). It was a pretty brutal year.
Looking at his plate discipline stats at FanGraphs, it looks like part of the reason for the decreased strike-out rate was that batters were better able to make contact against Guthrie, with the contact rate going from around 83% to over 87%. Looking at the Pitch/FX, Jeremy lost almost a full mph on his fastball – down to 92.4 from 93.3 – and he used the pitch less (down from 64.3% of the time in '08 to 60.9% of the time). He also didn't have much movement on it, though it was consistent with '08 and a step down from 2007's heater. Guthrie seemed to replace the fastballs with change-up (increased in usage from 10.8% to 14.8% with sliders and curves staying relatively the same). It was an effective pitch for him in '08, but I worry that throwing it too much causes it to lose it's "changey-ness", since it's not exactly the best pitch on it's own (it's pretty straight). I'm not a good enough Pitch/FX guru to do an analysis on his location, but given the flyball rates I'd wager that Jeremy left the ball up in the zone too much.
In any case, Guthrie clearly has a few areas that need improvement for 2010. He no longer has to be the veteran on the staff with Millwood aboard, but with three year of team control left it sure would be nice if the innings he provides are more average-ish. Getting back to the 2.4 to 2.6 Wins Above Replacement player he was in recent years as opposed to the 1.1 WAR version of '09 would be a boost to the team when they're getting ready to contend.
Photo by Keith Allison and used under the Creative Commons License 2.0.