In part forty-two of my almost 50 part series "Better Known An Oriole" (otherwise known as 2009 Orioles Retrospective), I take a look at reliever Alberto Castillo… THE FIGHTIN' SIDE-ARMING LEFTY!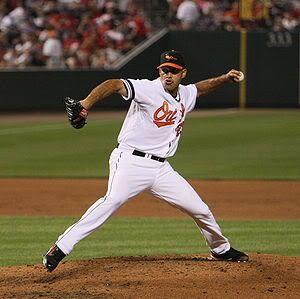 Castillo got in a little time at the end of the 2008 season with the O's, and despite a 3.81 ERA he spent the majority of 2009 in Triple-A. In his 12 IP in the majors, the 34 year-old was relatively effective. His 2.25 ERA and 3.01 FIP were shiny, but his strike-out and walk numbers were just OK at 6 K/9 and 3 BB/9. Castillo didn't give up a home run – which one certainly can't expect to continue – and his 4.49 xFIP would place him as about a replacement level reliever instead of the 0.3 Wins Above Replacement he posted in the limited time. If the O's really need an extra lefty for the bullpen next season Castillo might be one of the better options in the system, but he's not likely to be a force out there.
Photo by Keith Allison and used under the Creative Commons License 2.0.