This past Thursday I went to the Nationals-Phillies game in Washington with five friends – one Nat's fan, two Phillies fans, and two that just wanted to watch some baseball. The two non-affiliated guys decided to cheer for the Nationals, so I went for the Phillies to balance things out. The Phils took an early 2-0 lead off Livan Hernandez, but Washington came back – putting 8 up on Joe Blanton, including home runs by Adam Dunn* and shortstop Ian Desmond (making his MLB debut). The Nationals led 8-2 at the end of the 8th inning, and the Phillies fans at the park (which at that point was probably the majority of people there) were a bit down.
* It was Dunn's 36th of the year, continuing his trek to 40. Right now he's on pace for 41, which would be a big disappointment since he's hit exactly 40 home runs – no more, no less – for the past four years in a row. That's one of my favorite things in baseball.
With the Phillies down 6 runs and the bottom half of the order coming up, I turned to one of my friends – a Philapelphia fan – and asked him if Matt Stairs was the team's top pinch-hitter, or if that job was held by Greg Dobbs.
"Dobbs is on the DL," he told me.
No offense to Greg, but I took that as good news. Why would I be happy about that, you (and he) might ask?
"Because I think of Matt Stairs as kind of a lumberjack. He's a powerful, short, squat Canadian, and I imagine that after the season ends he puts on a plaid shirt and goes up to the Canadian forest to chop down trees and whittle them into bats for his use the following year." Mind you, I've had this caricature for years. "If I could see Matt Stairs bat, it would be worth the price of admission." This was obviously a ridiculous sentiment, even to people that know me.
Rookie pitcher Zach Segovia started the ninth for the Nationals. Raul Ibanez popped out. Jayson Werth reached on a throwing error by Desmond, though the younster didn't seem too concerned. Pedro Feliz singles off of Segovia's glove. As the 8th place batter – Carlos Ruiz – came to the plate, by friend told me to look at the on deck circle. Matt Stairs had a bat in his hands.
Ruiz drew a walk; the bases were loaded with one out, and the Lumberjack came to the plate. Pitch one was a fastball well outside, taken for a ball. Matt Stairs does not swing at such rubbish*. Pitch two was an outside fastball much closer to the plate. The Lumberjack took a mighty swing and sent it deep into the cool Washington night. Matt Stairs had hit a grand slam.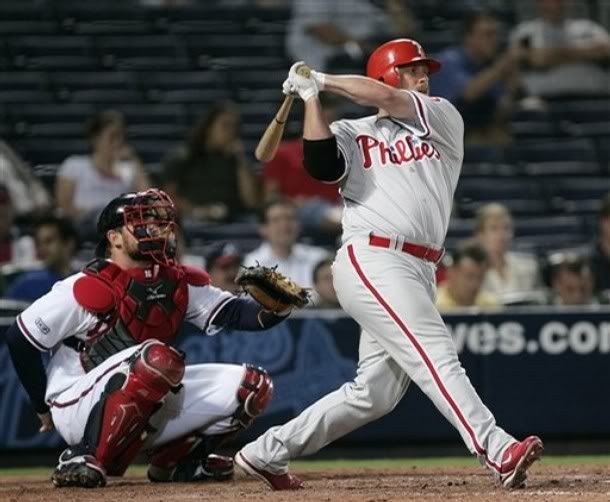 * Unbeknown to me, Stairs actually hadn't gotten a hit since July 11th – a streak of 30 at bats.
After the game* I mentioned to my friends a quote that I don't remember which player said first, but it's along the lines of "I always play hard, just in case there's even one fan in the stands who came just to see me." On that night I was that fan. And that's why baseball's a great game – because even in a game in which the result makes no difference and I don't care about either of the teams, I still get to see everything I asked for and then some.
* The Phillies kept the rally going, with a single and a double off closer Mike MacDougal to make it 8-7 before lefty Ron Villone came in. With Shane Victorino on second and one out, I saw Chase Utley do something pretty amazing himself. The Nationals had an infield shift on, with the third-baseman playing in his regular spot and the other infielders shifter way over towards first. On a 2-2 pitch, Utley did what could best be described as a check swinging bunt and hit a slow grounder to exactly where the shortstop would normally be playing. It looked clearly intentional to me, and he was safe with an infield single. Ryan Howard grounded into a double play to end the game though, and the Phillies lost.