Congratulations to Adam Jones for picking up his first Gold Glove this year (if the message on MySpace from Jonathan Jones, his older brother, is accurate; hat-tip to jerios55 (Jason Harrington) at OriolesHangout for the link). "This Guy" wrote: "is happy 4 my lil bro Adam Jones; He just found out he won the Golden Glove 4 his Baseball Team, the Baltimore Orioles" (a screen-grab of it is below the fold). Jonathan's mood is "excited", which is certainly understandable. [Edit: Appears to have been confirmed by Roch.]
According to FanGraphs, while Jones' fielding numbers were good last year at +9.9 UZR they were below average this year at -4.7 UZR (ranked 5th out of 7 qualifying AL center-fielders). The Fan Scouting Report has him as having good speed and acceleration, but not great reactions or instincts. His arm is rated as strong (and he did have a +7.3 arm component of UZR), but not that accurate. No idea how much blowing a bubble while making a catch is worth, but Jones may have led the league in that category.
He's probably a plus out there with the glove, but not amongst the premier defenders in the league. I'd rank Franklin Gutierrez and BJ Upton well ahead of him, and then there's Ichiro and Carl Crawford in the corners. I'm happy for Adam personally, but he wasn't deserving in my opinion. That doesn't mean he won't rightly add to that hardware in the future though.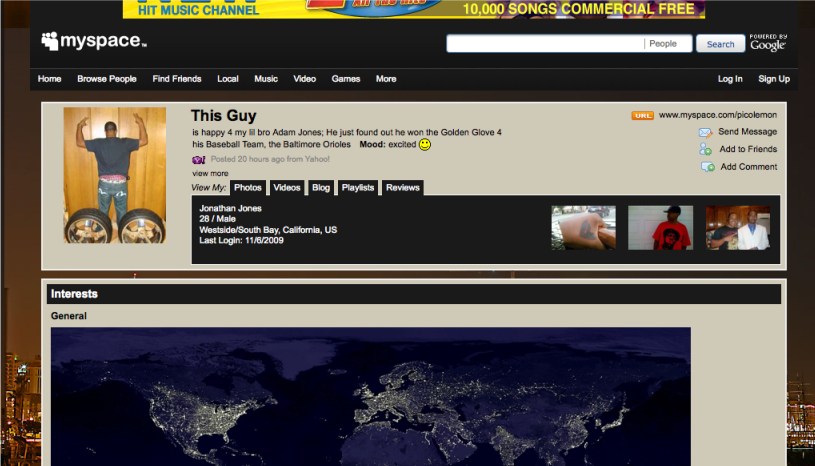 You can see Jonathan with Adam in that third picture on the right, I believe. And lest we forget, Adam himself sort of let the cat out of the bag when he was traded for Erik Bedard before it was official. Early good news is always welcome.