In part thirty-seven of my almost 50 part series "Better Know An Oriole" (otherwise known as 2009 Orioles Retrospective), I take a look at second-baseman Brian Roberts… THE FIGHTIN' DOUBLES MACHINE!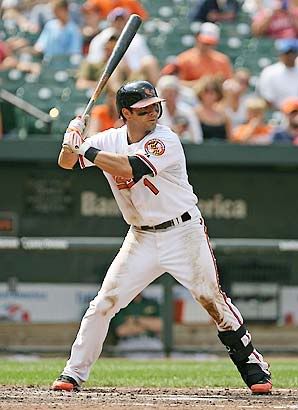 Roberts was signed to a sizable $40 M contract before the season, keeping him in an Orioles uniform through 2013. While I thought it likely that Brian would be worth the money overall, I was worried about a decline making him not that valuable when the O's would be ready to contend in the last couple years of the deal. For 2009 I projected Roberts to take a small step down from the previous year, batting .285/.365/.425 with slightly below average defense (-2.5 runs). That would have made Brian about a 3.7 Wins Above Replacement player – fine mark, but below the 4.8 and 4.4 of '08 and '07.
I got the batting average almost exactly correct, given that Roberts hit .283/.356/.451 for the year. His walk rate has gone down a couple years in a row, from 12.5% to 11.8% to 10.5%, and though that's still better than average, it's not a trend that one likes to see from a lead-off hitter (or anyone really). He partially made up for it by continuing to crack doubles at a prodigious rate. His 56 two-baggers were an Orioles' record, and his third career season with at least 50 put him in pretty elite company (Hall of Famers Stan Musial, Tris Speaker, and Paul Waner). Brian's 16 home runs were also the second most of his career, behind the 18 he hit in 2005. If he keeps picking up power and dropping OBP it might make sense to eventually move him to the two-hole in the line-up (assuming a high OBP guys is found for lead-off).
So overall, the bat was right where I expected (if with the same distribution). Defensively though, Roberts' UZR fell off a little faster than anticipated. After a -0.9 UZR/150 and -1.5  UZR/150 the last couple years, it was all the way down to -8.7 UZR/150 and -9 runs total. Brian was never the best at turning the double play, but that was average in '09. It was the range component – which had been positive almost every season and at +5.9 for his career – that was responsible, at -7.5 runs. It wouldn't be fair to say that Brian is such a bad defender at this point, but he's probably more -4 runs than -2.
On the base-paths, Roberts' stolen base total fell by 10 for the second year in a row (from 50 to 40 to 30). He was still efficient though, with an 81% success rate. His non-steals base-running stats, according to BaseballProspectus, were a touch below average – largely as a result of being -1.45 runs relative to average when it came to advancing on groundballs. That stuff is generally small potatoes though.
Put is all together and Brian was about a 3.4 WAR player in 2009. That made him worth about $15 M – well more than his salary of $8 M or the the $10 M he'll get each year going forward. Assuming the normal 0.5 WAR decline each year and 7% salary inflation, Roberts should be a bargain through 2011; almost exactly worth the money in 2012; and overpaid by a little over $2 M in 2013. Still, second-baseman don't tend to age particularly well and so I'm a bit concerned. I don't think he's really an All Star level player anymore, but he should still be one of the main contributors to the team when they're starting to make their move in the AL East.
Photo by Mark Goldman.