In part thirty-four of my almost 50 part series "Better Know An Oriole" (otherwise known as 2009 Orioles Retrospective), I take a look at right-handed pitcher Radhames Liz… THE FIGHTIN' FORMER TOP PROSPECT!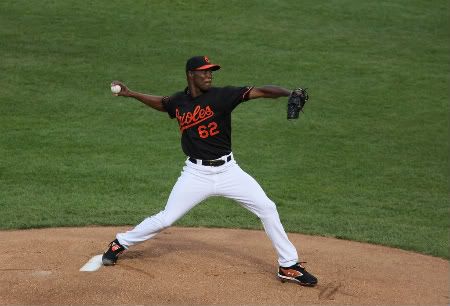 Liz got a somewhat extended chance with the O's in 2008, posting a 6.72 (6.17 FIP) ERA in 84.1 IP. I thought he would take a step forward in '09, projecting 60 innings of 5.06 ERA ball split between the rotation and the bullpen.
I turned out being way high on the IP and way low on the ERA, since Liz only get 4 outs in the majors all season while giving up 12 baserunners (8 H, 2 BB, 2 HBP) – ten of whom scored, for a tidy 67.50 ERA. That's obviously quite high, with his FIP coming in at a much lower 20.35. Things went so poorly for Liz in 2009 that he was actually sent down to Double-A. Though he was better there (2.63 ERA, 2.85 FIP) than at Triple-A (5.68 ERA, 3.27 FIP), it wasn't enough to keep the O's from letting the Padres claim the 26 year-old off waivers. [I was surprised by the move, and while it's not a huge deal I think it's the case that if the O's picked up an arm like that people would be pretty excited about it.]
Liz showed flashes of brilliance in his time with the Orioles organization, but with his inability to translate decent walk-rates to the majors and a downward trending strike-out rate he just ran out of chances. I still think he has a chance of turning into a quality power reliever – especially in the weaker league in a pitcher's park. It'll be interesting to see what happens.
Photo by Keith Allison and used under the Creative Commons License 2.0.