In part twenty of my almost 50 part series "Better Know An Oriole" (otherwise known as 2009 Orioles Retrospective), I take a look at swing-man Mark Hendrickson… THE FIGHTIN' LANKY LEFTY!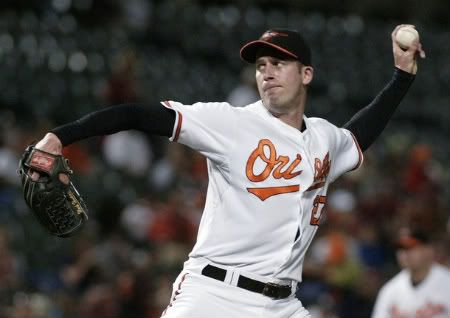 The O's signed Hendrickson to a one year, $1.5 M contract this off-season to provide some back-up for the starting rotation and a lefty out of the bullpen. I thought it was a fine low-risk signing, especially since Hendrickson was much more effective as a reliever than as a starter for his career (the split was larger than the average pitcher's). I didn't exactly stick with that precedent, projecting Hendrickson to pitch 80 innings with a 5.13 ERA out of the rotation and 25 innings of 4.32 ERA ball out of the pen.
Hendrickson did start the year as a starter, but that didn't last too long. After 7 he was moved to the bullpen, where he pitched the majority of the year. He did make 4 more starts at the end of the season when the O's shut down most of their young starters. Hendrickson finished at almost his exact career marks, with a 5.40 ERA in 50 IP as a starter and a 3.44 ERA in 55 IP as a reliever. His 4.32 overall ERA was better than I had expected, though his 4.92 FIP was a bit disappointing.
Mark's underlying stats were pretty much in line with his career numbers. He didn't strike out to many guys (5.23 K/9) and didn't walk too many either (2.83 BB/9). His groundball and flyballs rates were normal, though he did give up a fair number of home runs (1.37 HR/9) due to a 12.7% HR/FB rate. Adjusting for that, his expected FIP was 4.68. Nothing too impressive, but he was worth 0.5 Wins Above Replacement and $2.2 M, which makes his contract worthwhile.
Word is that Hendrickson wants to come back to the O's next season. As swing-men go, he's not bad. He won't completely embarrass you as a starter, and is actually pretty effective out of the pen without a big platoon split. If the 35 year-old was willing to sign for a contract similar to the one he had this year then that would be a solid move for the team. I doubt he would start the year in the rotation again though, and that indicates some of the progress the O's have made.
Photo by Gail Burton.