In part thirty-three of my almost 50 part series "Better Know An Oriole" (otherwise known as 2009 Orioles Retrospective), I take a look at reliever Jim Johnson… THE FIGHTIN' GUY WHO'S BETTER THAN FERNANDO RODNEY AND CAN CLOSE MORE EFFECTIVELY FOR A FRACTION OF THE COST*!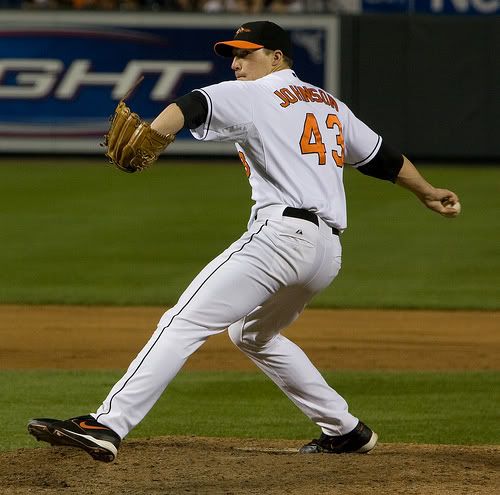 * Sorry for the length of that one, but I couldn't think of something good that was shorter – I don't like his apparent actual nickname of "Nails" – and that was I point I wanted to make here anyway.
Johnson was a starter in the minors, but he come up and established himself as quality arm out of the bullpen last season. Going into 2009 he was considered a top set-up man on the team, and I projected him for 60 innings pitched with a 3.85 ERA.
JJ's ERA actually jumped from 2.23 in '08 to 4.11 this year, though he actually pitched better this season. His strike-out rate went up from a mediocre 5 K/9 to a still low 6.3 K/9, largely as a result of batter have a harder time making contact (from 87% to 80%). He cut down on his walks from 3.7 BB/9 to 3 BB/9. The big difference was that last year Johnson gave up 0 home runs – in what was a fluke occurrence – and this year his home run rate was a more normal 1 HR/9, with a 12.1% HR/FB rate. JJ's expected FIP of 4.17 matched up quite well with his FIP (4.30) and with his ERA – the guy he looked like this year was much closer to his actual ability level than last year's version (3.38 FIP, 4.49 xFIP). The one less than encouraging sign is that his groundball rate fell from 58.7% to 51.8%, though that might be because he traded groundballs for K's. In any case, Johnson was a quality pitcher – coming in at 0.5 Wins Above Replacement – but not a shutdown reliever.
Stuff-wise, Johnson was pretty consistent. His fastball stayed at about 94 mph on average and had a lot of run on it, though not the sink that some might associate with it. The curve had it's good 12-6 like break, though he threw it less (from 21% of the time to 11%) with more change-ups  – which also had good tailing action like his fastball – making up the difference. It's a repertoire that might have served him pretty well if he had remained as a starter.
Once George Sherrill was traded to the Dodgers, JJ was installed as the team's closer. The consensus seems to be that Johnson struggled in that role, though I don't know if that's really true.
Facts:
Stats in April through July: 3.16 ERA, 1.9 K/BB, 2 saves, 3 blown saves (once in the 7th inning, twice in the 8th)
Stats in August, September: 6.23 ERA, 2.2 K/BB, 8 saves, 3 blown saves (all three in the 9th)
ERA in August, September excluding an appearance against the Yankees in which he gave up 5 runs in a game the O's were already losing (not a situation where it mattered that he was a closer): 4.15.
ERA in Aug, Sep excluding the previous appearance and another in NY in which the O's were ahead 7-1 (non-closer situation): 3.32.
Stats in save situations throughout the year: 3.44 ERA, 3.3 K/BB
Stats in non-save situations throughout the year: 4.75 ERA, 1.6 K/BB
I don't think it's the case the JJ can't be the closer, as much as it's the case that he's not as good of a pitcher in general as some people thought. If the O's want to bring in a Closer for 2010 that's fine, but I wouldn't spend too much money on it. Just as well to find a good set-up man to act as the team's relief Ace and allow Johnson to handle those 9th inning situations with a lead of 3 runs that he'll convert way more often than not.
Photo by Keith Allison.