In part twenty-nine of my almost 50 part series "Better Know An Oriole" (otherwise known as 2009 Orioles Retrospective), I take a look at back-up outfielder Jeff Fiorentino… THE FIGHTIN' BAYSIDE POWER!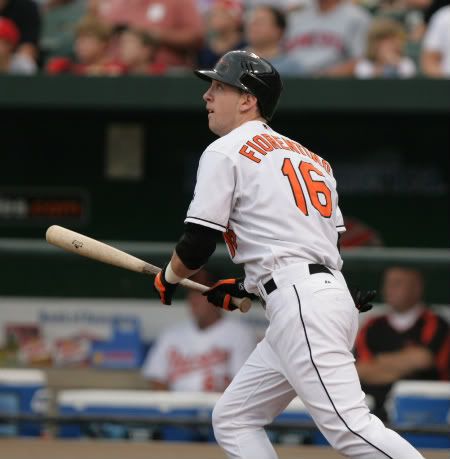 Fiorentino spent most of the year hitting well at Triple-A to the tune of .312/.387/.510, but the 26 year-old couldn't carry forward the power production once he got called up to the majors. He hit .281/.351/.297 in 75 plate appearances for the Orioles, showing his good batting eye in swinging at just 14.1% of pitches out of the strike-zone (compared to a league average of 25%). That allowed him to post a solid walk rate of 11.1%, which was third highest on the team amongst players with at least 50 PA (behind Zaun and Reimold). Given the tiny sample sizes it's very hard to gauge how good of a fielder Fiorentino is, but it seems he's a small plus in the corners and a small minus in center (but playable when needed). That would make him an OK – replacement level to slightly above – back-up outfielder (though he was at -0.1 WAR this year). Since he opted for free agency when the O's tried to send him to the minors after the season, Screech might be filling that role for another team next year.
Photo by Keith Allison and used under the Creative Commons License 2.0.