In part thirty-two of my almost 50 part series "Better Know An Orioles" (otherwise known as 2009 Orioles Retrospective), I take a look at catcher Gregg Zaun… THE FIGHTIN' Z-MAN!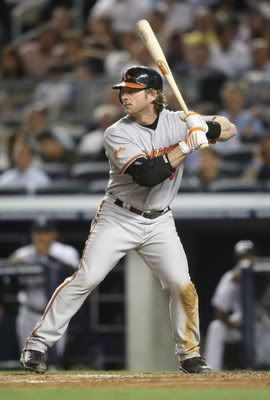 Last off-season I advocated the Orioles sign Gregg Zaun to be their catcher until Matt Wieters was ready – noting was consistently solid bat for a back-stop – and they listened to me*, inking him to a one year, $1.5 M deal with a $2 M option for 2010 ($0.5 M buyout). I projected him to hit .241/.340/.374 in 225 PA – good for 0.9 Wins Above Replacement of production.
* You're welcome, Andy. Always happy to be of assistance.
Zaun brought his Z-Game even more than expected, batting .244/.355/.375 in 197 PA for Baltimore. He had his usual strong plate discipline, with 27 walks to 30 strike-outs. At the beginning of August the O's traded Zaun (and a little cash) to the Rays in return for a PTBNL (turned out to be first-baseman Rhyne Hughes, a C prospect). I thought it was a fine deal:
"He's rewarded the team with $5 M in performance (1.1 Wins Above Replacement) on the strength of an underappreciated .244/.355/.375 line…

Zaun is only making about $0.5 M the rest of this year, and has a $2 M option for next year with a $0.5 M buyout.  Given that he's likely to produce about $2 M in value for the rest of the year, the excess value (assuming the buyout is used, which isn't a slam dunk – Zaun at $2 M next year would probably be a bargain too) would be $1 M to the Rays, plus whatever small increase you'd want to give their playoff chances. That would indicate a return of about a C level prospect, but we'll see what happens."
Overall, Zaun hit .260/.345/.416 for the season, having traded walks for power after getting to Tampa Bay. His .334 wOBA was above average, allowing him to produce 1.8 WAR (worth $8.2 M) in just 262 PA (assuming average defense). Despite the limited playing time, that made Zaun the 9th most valuable catcher in the AL (right behind Matt Wieters). His walk rate was down a little bit from previous years, but still an above average 10.6%. The K's were up as well, to 18.3%. It was partially a .291 BABIP – compared to a career mark of .276 – that kept his stats up. Looking at his defense, Driveline Mechanics had Zaun as a slight plus with the glove at +1.8 runs, though that was largely due to his skill at blocking balls in the dirt (+2.9 runs). In any case, the 38 year-old proved that he was still a useful player. Zaun signed a deal with the Brewers for 2010, and is very likely to be worth well more than the $1.9 M he'll be paid.
Photo by Rob Tringali.